Heading from Big Bend National Park Towards Alpine
Picture by Voni
Ricardo & New RT
The above picture was taken by Voni Glaves who happen to be out on the front of her house with camera as we rode by on our way to Alpine. Voni has over a million miles on BMW motorcycles. Tomas has met her before at BMW rallies and he spotted her and stopped for a short visit. Tomas had actually emailed her about the possibility of camping out at her place in case we were out of luck on a hotel for Saturday night, but the odds of catching her out by the highway as we rode by was really amazing. Check her riding history, truly impressive.
We started our ride at 5:30am and it immediately struck me what's great about riding as the smell of grass fields heavy with the mornings dew fill the senses, then the sweet, powerful smell of blossoming orange trees dominated as we rode between orchard fields. It's just the sense of being close to nature that reminds me how we just miss those senses when we're caged up in our vehicles. What a time to ride as spring comes early to South Texas.
The new BMW R1200RT is a week old and I've got 2,323 total miles. After the break-in procedure and the 600 mile service a group of six took a three day ride to Big Bend National Park. During the three days we logged approximately 1,481 miles. Tomas, Marco, Ed, Albert,Pancho, and myself met up about 5:30am in Edinburg and headed out at 6am or so. It was still dark and we wouldn't risk the back rural highways at night with too much wildlife venturing out on the highway. We stuck to Highway 281 North and made our way to Falfurrias, about 90 miles from home to gas up and eat breakfast. We left Falfurrias about 8:30am and headed West on Highway 285 and then North on Hwy 339 to Benavides and Freer. Highway 339 is one of the few backroads that's not congested with all the trucking from the "Fracking Gone Wild" in Texas, so that's a pleasant ride through Benevides. We rode through Benavides and made a quick stop in Freer and a gas stop in Encinal then pushed on to Carrizo Springs where we stopped for lunch.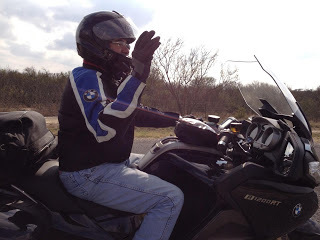 Cruising Down the Highway
We made Del Rio by about 3pm and fueled up at WalMart on the West end of town while Albert went in and bought a sleeping bag. In Sanderson we stopped for a break and met two brothers from Colorado riding the new BMW GTLs on their way to South Padre Island. We didn't mention that it's Spring Break and not the place to be.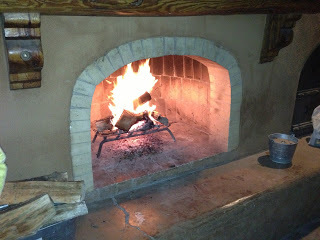 Marathon Motel
We arrived at the
Marathon Motel & RV Park
right about 7pm. We had reservations for only one night so the plan was to camp out Saturday night at the basin in
Big Bend National Park
, but we started re-thinking that idea when we heard that it would be about 34 degrees on Sunday morning. The basin campsites were also all taken due to Spring Break so we settled on a couple of rooms at the Hampton Hotel in Alpine for Saturday night. The Marathon Motel is a neat little place that we've stayed at on many of our trips to Big Bend. When they hand out complimentary ear plugs you start thinking, did I miss something in the small print?" The train runs by about ever hour, twenty four hours a day, at least that's what they say. They don't bother me, but that may not be the case for everyone. The motel has a handful of little cabins/rooms, an RV park and about four tent campsites. It also has a great open patio area with a huge fire place and it's the perfect spot for just relaxing. There's plenty of firewood and we're free to start a fire. We were joined by another motel guest, a band member from Austin out to take pictures of the Big Bend area for his band.
Before we started the fire we went out to the Gage Hotel White Buffalo Bar for a couple of beers and some dinner. Food at the Gage is very good and the prices are not too bad. After our fireside chats we ended our day; 525 miles on Friday.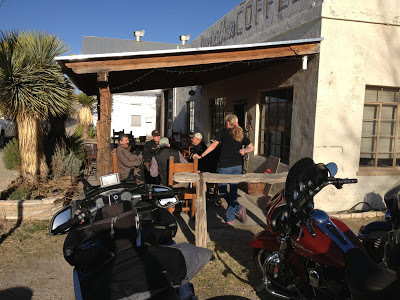 Marathon Coffee Shop
Saturday we were up early and rode over about an eighth of a mile to the Marathon Coffee Shop which always has a good breakfast menu. You can sit inside the restaurant, but with pleasant weather it's great sitting outside which is what we did. After breakfast we gassed-up the bikes and rode west to Alpine where we dropped off our bags at the hotel before we headed to Marfa, Texas. Marfa is an interesting place with a large artist community. We toured the town on our bikes, passed the open market area and moved on to Presidio.
Presidio is not a very attractive town, but it's the gateway to Hwy 170 to Lajaitas, about a 60 mile road that hugs the narrow Rio Grande River. It's only a stone's throw from the US to Mexico and the river is a very shallow crossing in many places. There's no wall here as it's sparsely populated on both sides of the river. The highway is a great ride with lots of dips, some small and others big. It's a hilly ride, but most are small hills so it's a real up and down ride.
As we rode east we hugged the river to the right and crossed the Big Bend State Park to the left. We stopped at the State Park parking area to check out some trails and then rode to the next rest stop which is lined with Tee-Pees, not real ones, but ones made from cement.
We ended the route at Study Butte, fueled up and entered the western entrance to Big Bend National Park. Once in the park we rode to the Chisos Basin for a nice break. It's about 28 miles back to the western exit at Study Butte and another 82 miles to Alpine.
Reata
Resturant was our dinner stop in Alpine. It's probably the nicest place in Alpine and they serve some great dishes.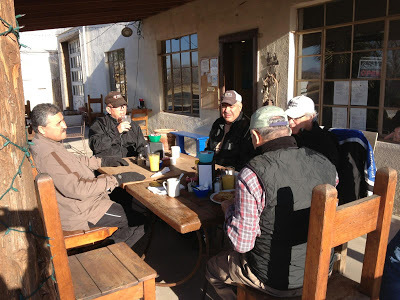 Marathon Coffee Shop
Our stay was at the Hampton Inn on the western end of town. We woke early Sunday to 34 - 36 degree weather so we layered up and headed out by 8am. The ride home took us through Hwy 67 North which meets I10 about 15 miles west of Fort Stockton. Once we hit I10 we cruised at 85mph and battled a strong northern that was blowing in that day. We rode from Alpine to Ozuna, approximately 180 miles before stopping for some hot coffee. It was now 58 degrees, but it still felt cold. We went another 100 miles to Junction for BBQ at Coopers. Hwy 83 is just east of Junction so we decided to take Hwy 83 south and have the wind at our backs.
From Junction on Hwy 83 south we stopped for a break at Concan just off Hwy 83 on Hwy 127. From Concan we made stops in Hondo and Alice before making it home. About 625 miles that Sunday.
It was a quick three day ride, but we had a great time. Weather was cool and skies were clear all three days and except for the cold start on Sunday morning, it was just about perfect riding weather. Big Bend is always a great ride and next time we'll do Santa Elena Canyon before heading out of the park.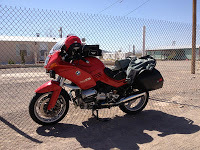 Pancho's BMW RS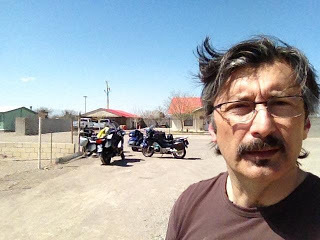 Marco Having a Bad Hair Day!
Tomas & Albert by Rio Grande River along Hwy 170
Pancho, Marco, Ed & Albert in Concan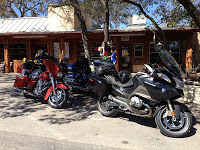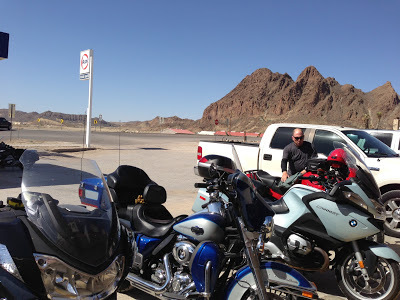 Pancho in Study Butte, Texas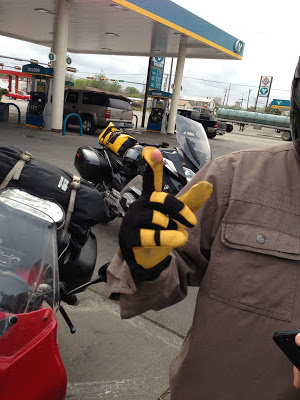 Ed's solution for operating his phone! We're sure Apple is picking up on this one; the new iHandinGlove! We'll be selling these for $39.95 & if you order before July 4th we will toss in a left-handed glove for free. There is a small S&H fee of $19.95. Satisfaction guaranteed, if not completely satisfied simply return the glove(s) for a complete refund minus a small restocking fee of $21.95. Our shops and technical staff are ready to help you. Wait, that's not all, yes, for a small added fee we can design the same glove for left-handed users, but you must act now! Imagine yourself texting away while cruising down a narrow country road at 75mph while your friends just look on with envy! Don't be the last one in your riding group to be without the technical advantages of our designs. (Just in case anyone thinks we're serious, we're not...don't send us any money, we don't sell gloves cut-up with scissors, and never text while riding)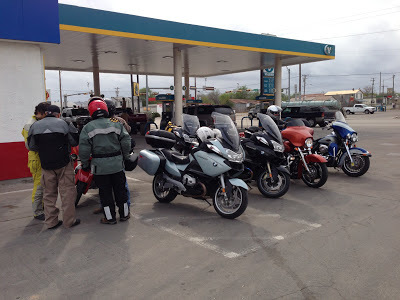 Checking out the glove in Freer, TX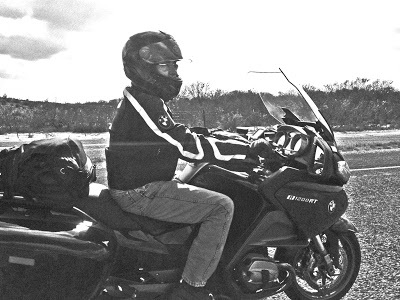 Going down the Hwy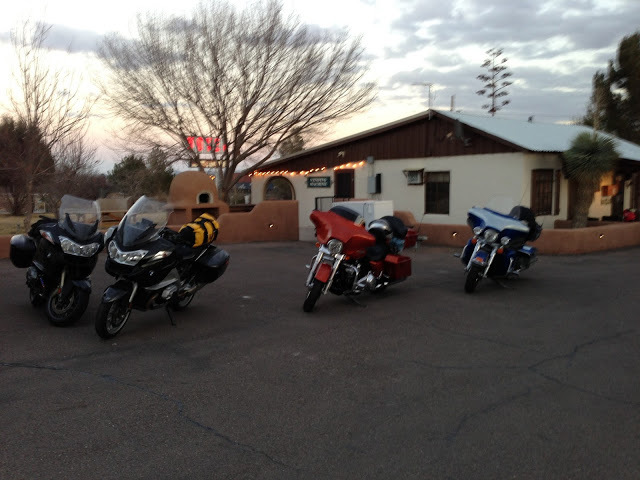 Made it to Marathon Motel just before dark!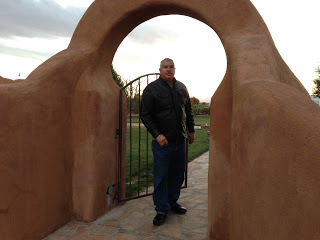 Albert at motel patio area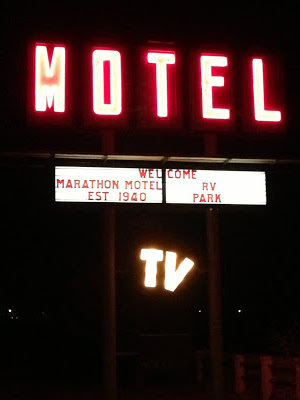 Yes, they have TVs (small), but no WiFi!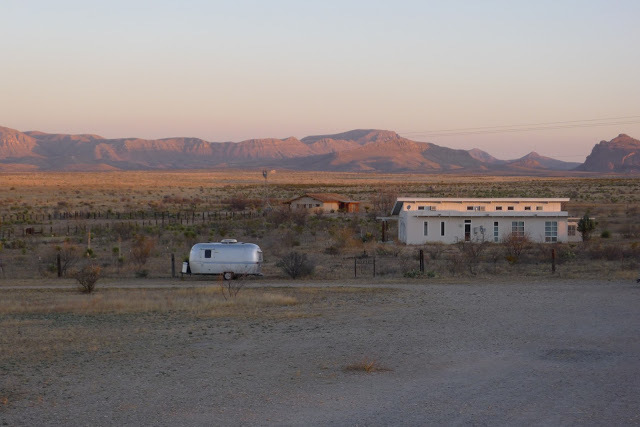 Rear view of Marathon Motel area.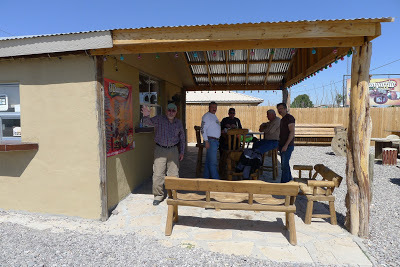 Persidio stop at fruit drink cafe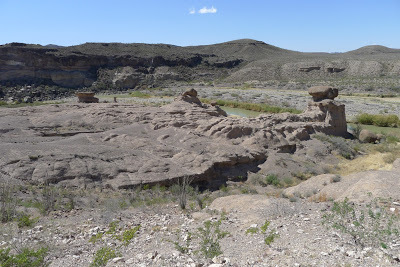 Big Bend State Park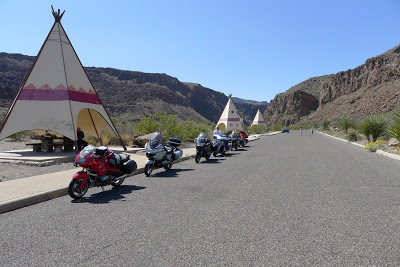 Rest Stop
Rio Grande River
Albert
Marco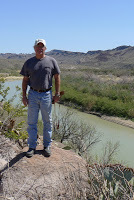 Ricardo
Arriving at BBNP Chisos Basin
Chisos Basin at BBNP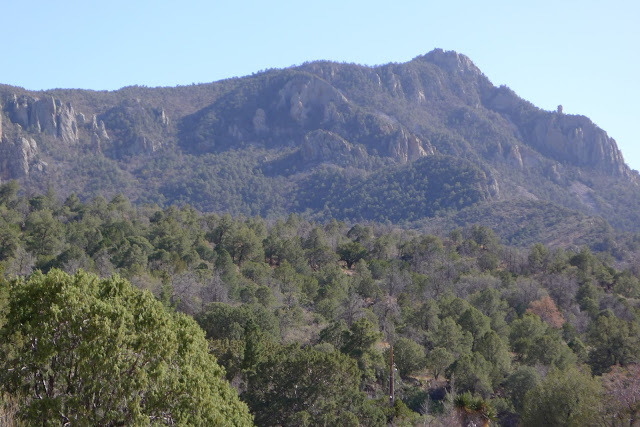 Big Bend National Park - Chisos Basin
ll
View Larger Map