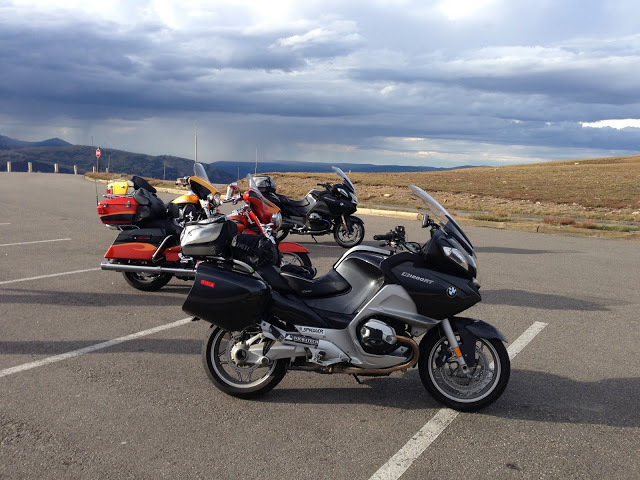 The bikes
I got up super early to pack the bike although our meeting time was 9 am. We left Mission at 9:15 am with temps already at 87 F. We are now at San Isidro for breakfast. Stats - 48 miles (ha), 52.2 avg mpg, temp 89 @ 10:30 am.
New gear on this trip for me is BMW Rallye Pro 2 jacket and pants and my 2nd ride with the Touring Pro boots. I even got a set of suspenders for my pants. I plan to use them on the riding pants as well as my jeans. Reviews on these to follow.
Heading to Dilley and then Ingram.
Fueling in Freer.
Stats: temp 94F, 139 miles, 2.75 g, BC 51.1 mpg.
With Ed, Hiram & Ricardo.
About 20 miles south of Cotula it hit 100 F. Cotulla is always hot. It was 101 in town. Dilley is just 18 miles north so we rode on.
This is Motohank in Dilley, TX. He's a pretty good BMW motorcycle mechanic. He can pickup and deliver in that MB diesel van in the picture. (Since Dilley is in the middle of nowhere)
Good mix of BMW bikes.
The bike was finished shortly after 5 pm so we head north on I35 to Devine. At Devine we switch off from the Interstate to a nice country road - 173. We take 173 until Bandera where we stop for gas.
Stats: Temp 99, miles 169, gas 3.4 gals, and BC claims 52.2 mpg.
At Bandera we change over to highway 16 which is a very nice twisty road. We got to Ingram and my BC showed 61.9 mpg!
Having dinner in Ingram.
Nice easy first day with a total of 355 miles. Tomorrow we want to make it to New Mexico.
2013/09/01
We pack, clean up the bikes and leave Ed's house at 8 am. Of course, we stop at 8:10 am for breakfast at the Hunter House Cafe in Ingrim. It's only 10 minutes of riding but I could use some coffee.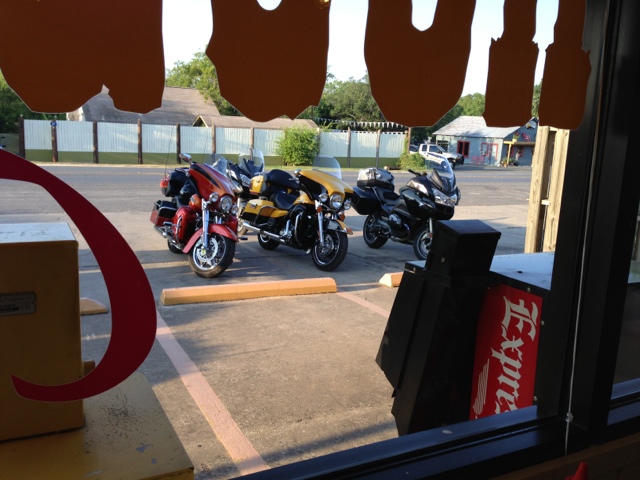 We decided to take some back roads from Ingram to some point in New Mexico. We took 83 north to Eden where we got on 87 to San Angelo, on to Big Spring and then take 380 west at Brownfield. We take 380 to Roswell where we debate if we should continue north to Santa Fe in spite of rain and thunder showers. It's already late but decide to do the run in the rain and darkness. The rain was not too bad. Get in rather late into Santa Fe.
Total miles for Sunday was 995 (355 was on Sat).
2013/09/02
On Monday morning we ride to the square for some coffee and maybe something light for breakfast.
We make several travel plans that we all break. We just kind of rode the local roads. First place we stop at is Chama,
The bikes resting in Chama.
NM right next to the CO border. From there we head to Shiprock via highway 64 but when we get to 550 heading north we take that route in order to get away from the heat. At that time the high was in the low 90's. we make it into Durango, CO at about 4:30 pm. We rode 250 miles with the majority of that being in the mountains. We decide to stay here for the night because we want to visit one of the local motorcycle dealers in the morning.
Coffee in early morning Durango
[Let me interject at this point that the best intended plans can very easily fall by the wayside. I stopped recording my fuel consumption because of a number of reasons. It was already a little difficult having to document all the figures that I wanted to keep when others are waiting for you to depart. A few of the problems that I had include stopping to fuel up during rain storms, a partial fuel stop at a very old place with very old pumps that I - for one - did not trust, and even a pump that did not take my card and two of us fueled up on one card swipe. I decided to enjoy the ride and forget the stats.]
2013/09/03
After leaving the hotel in Durango we went to the Harley dealership there. One of our guys wanted to add a few items to his baggage. After our shopping we headed north via 550 to Silverton and then to Ouray for lunch.
Silverton down below
From Ouray we continue to Montrose and from there we use the minor roads and head north east to Carbondale. From Carbondale we take 82 to Aspen.
I thought we would have to pay double our regular hotel rates in Aspen but we found a nice hotel at a very good price. We got to Aspen in time for a few beers and dinner just before a storm hit the area. The hotel manager even let us park the bikes under a car port after he moved his car out from his spot. Nice of him to do that.
2013/09/04
First place we ride to is Maroon Bells just outside of Aspen.
Maroon Bells
We leave Maroon Bells and take 82 to Independence Pass. That's always a nice ride. This day it was just cool. I've been here in June and still had snow and very cold weather. I guess the weather changes.
Self explanatory
We then head north again to Rocky Mountain National Park. The ride through that park is also recommended. It has some awesome views and very easy to ride.
From there we head to Boulder for the night.
2013/09/05
From Boulder we decide to head back home to Texas. We head to eastern Colorado (it's so different from the western part of the state) and head south. As we head home the temperature just about doubles on us. We don't get much of a chance to get acclimated to the near 100 degree weather. Make it through Colorado, cut the handle of Oklahoma and into Texas to Lubbock. I think the day total was 675 miles. We did have a delay on the way to Texas.
Something on fire up ahead.
We had to wait for a while for that fire and finally they detoured us around that area. All dirt roads. They were ok to ride but of course very dusty especially with trucks also taking the detour.
2013/09/06
From Lubbock we take some strange back roads to Ingram. I think our guide was lost because for many miles my GPS wanted me to turn around and distance to destination was increasing instead of decreasing. But that's ok... the purpose of the trip was to ride.
We make it to Ingram in time to relax with some beer (again!) and watch a little TV. No supper. I don't know why we didn't get supper but we did finish all the beer.
2013/09/07
Our last leg is from Ingram to the Valley. It's a short ride for a day. We take our time taking back roads for the entire ride. We have a few times when we run into rain. Once we put on our rain gear only to have to take it off again about 20 miles down the road. We're in south Texas now and it's about 100 F. I even welcome small showers every so often. It's like nature's air conditioning system.
The total miles logged on my bike for the trip was 3008 miles. The other RT in the group had exactly the same mileage. I liked the Rallye Pro 2 jacket and pants. Also the suspenders make life a lot easier.
The cockpit
The author and his RT
tsp